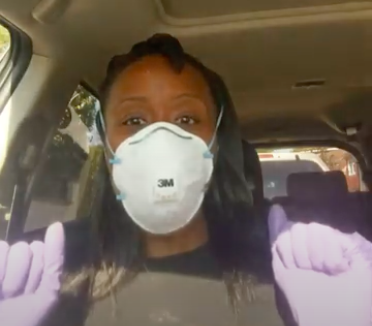 Lockdown Lowdown  - 24th March 2021
I can't believe that as I sit down to write my blog today, it marks the anniversary of the day we went into national lockdown. Something none of us could have predicted way back in 2019 but have now all become far too familiar with.                                  
Outside the obvious health risks, my concerns were strong. Managing a business, though I couldn't have been more thankful that I ran it from home, as well as two young children's home-schooling. However was I going to cope? How would I bake or make deliveries when I should be teaching additions or singing along to the latest phonics tune?
The first two weeks of Lockdown1 were dark. It's as if Essence of Cake had disappeared from the minds of all including Google! I did not receive one phone call or email or PM for two whole weeks. On the plus side, I found the time for additions, singing phonics songs, being a dinner lady, cleaner and PE teacher. But in the back of my mind I was wondering how on earth I was going to survive this lockdown if it was to continue like this.
It's clearer now that the way the pandemic was portrayed was that if you caught COVID the chances of survival was low (we now know betters) so the world went into a panic and rightly so. Who's thinking about cake or celebrating when stepping outside could cause you to meet your maker?
Wow! This blog so far is coming across really bleak but if you cast your mind back a year, we were all feeling this way. As a small business owner, there's no sick pay, no furlough and with no bricks and mortar, no government grants so I had to 'shake away the sillys' (another song I learnt during home-school;) and think to myself, how can I evolve my business during this pandemic?
Stop! Pandemic Time
Celebrations for birthdays and weddings were definitely not going ahead so I knew that focusing on larger cakes would be unwise. So I started thinking about the fact that people would still want cake, just in smaller quantities. After some brainstorming for small celebrations my customers would have in their homes, two ideas popped up.
The first was to create a cake slice box and something that could be posted, as there were restrictions with leaving your house, so collections were out of the question.   I did some testing, baking, tasting (of course) researched packaging options and voila my Cake Slices in a Box was birthed.
I must confess, it was difficult to part with funds to complete these preliminary tasks during such hard times. And not just financial hard times, but the difficulty there was in getting the basics like flower and eggs. Do you remember how hard it was to get such simple staples during Lockdown1? There were days I would visit multiple shops and still not get what I needed. But that aside, I had to keep the end goal in sight. And I am so glad that I did. My Cake Slices in a Box is now available for one-off purchases or monthly subscription, so it suits all needs. 4 indulgent slices of cake delivered to your door, what more could you want with that cup of tea or coffee or Prosecco? I am so proud to say that I have even posted one Japan! Yes Japan! You have to love the power of social media. My customer had never experienced English cake before and she was blown away that I was even able to send it to her in the first place, secondly that is arrived in such good condition (based on how I packed it) and lastly and most importantly, that it was so yummy!! I wonder where the next international delivery will be to? We may not be able to travel, but at least my Cake Slice Boxes can.
The second change I made in relation to cake was to introduce the tiny 4" bake. They are perfect for small families who really want a cake to mark an occasion but know they wouldn't even get through a 6" cake whilst it's still moist and lip smackingly good. I can't believe how many of them I have made during all lockdowns; it was certainly a good decision. I don't know what it is about things in miniature that always look sooo cute, and these 4" cakes are no exception.
My Customers Guide The Way
My customers are always my focus and one thing I regularly do is ask for feedback and I really find it refreshing to hear what they have to say. I send out surveys and always review the comments left on my social media pages and from emails received. Sometimes a simple suggestion can make such a massive positive impact to my business. One of the things I noticed during Lockdown1 was an increase in Afternoon Tea orders. I can only assume that people wanted something a little bit more special than the local takeaway, especially to celebrate a birthday, anniversary or any other special occasion. "This is great" I thought, however, the issue I had with the orders was that they were for 2 people. My website did clearly say that my minimum order was for 4 people (this was mainly for cost effectiveness reasons), but they still kept coming through.
I can say now that is it fortunate that my booking form wasn't very high-tech (it is now thanks to the amazing Crowd Funding support I received to help digitalise Essence of Cake), so indeed 2 people could be selected as a minimum order. I could have pompously stuck to my guns but I looked at this as a sign, a sign that I needed to make a change during these unprecedented times and seriously look at what my customers were asking of me.
So I took a chance and ran with it. Yes the minimum number was lower but on the flip side, the orders were increasing so it was a win:win situation for me. And I have never looked back. During the last year I have received 111 afternoon tea orders for 240 adults and 16 children. I have catered for vegans, those who are intolerant to gluten and dairy, even a guy who was allergic to cucumber skin but loved the inside bit! On mothers day weekend alone, I delivered 20 Afternoon Teas! That's a lot of happy mothers.
When I tested the concept of my afternoon tea service on my aunties and mum over 8 years ago in my front room, before I even started my business or had a shop or even knew how I was going to market it, I could never have imagined it would be where it is today. I love to go to afternoon teas with my best friend; but I don't eat pork, she doesn't eat beef and we always found that we were left with the most boring sandwiches and they'd double up on them because of the ones we couldn't have. I didn't want that with my menu. My design your own menu is an absolute hit as at the end of the day, who am I to dictate what sandwiches and cakes everyone collectively likes.
Onwards & Upwards
So here we are, one year after Lockdown started and the near future is still uncertain. What I do know though is that I will always take any 'setback as my comeback' (a dear cousin said this phrase to me on a Zoom call from Jamaica and I love it, so I'm using it J) and Essence of Cake will continue to grow, to seek out new cakes and new opportunities and to boldly go where no cake business has gone before with the support of my loyal customers!! To whom I say a big 'thank you'. 
To check out all the great stuff we're doing at Essence of Cake including our new and improved website, visit www.essenceofcake.com