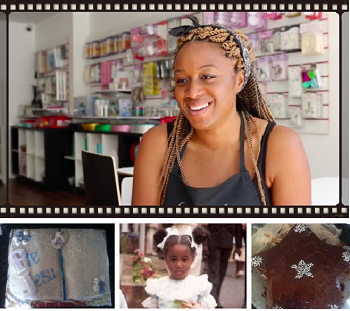 All About Me...
There's something about a slice of cake. A rushed cup of tea becomes an occasion to savour. A wedding doesn't feel 'official' until the happy couple cut the cake, and what birthday party is complete without a birthday cake? In fact, most of my childhood photos feature me, a cake and a steadily increasing number of candles!
​I'm incredibly passionate about the cakes I bake. I put my all into each one, so you can be sure that in the unlikely event they're not perfect, they get remade. Whether it's an afternoon tea treat for a loved one, a corporate team-building event, or even, 'just because,' Essence of Cake has the perfect cake for you.
So, where did this love of baking come from?
I suppose my earliest baking memory must be Mum buying me 'Microwave Cooking for Kids' and leaving me to it in the kitchen, making an almighty mess and thoroughly enjoying every minute.
Mum tasted everything I made with a smile on her face, even if the results weren't always as expected!  We joke in our family that the baking talent skipped a generation (sorry, Mum!) but Grandma, and her incredible Jamaican Rum Cake, was certainly my baking inspiration. I'll never forget the day she leaned in and whispered in my ear, 'Tracey, when I'm gone, I've left you some money to start a business."
"You were born to be a baker!"
At the time, I was busy enjoying a successful corporate career in London and happy to be known for bringing in the best birthday cakes, so setting up a business was the last thing on my mind.  Grandma's words planted a seed in my mind, though, which would take a few more years to grow.
I was heartbroken when Grandma passed away and, while her inheritance wasn't quite enough to set up shop (with 48 grandkids, she clearly thought money could go further than it did!), I used her money to invest in my first KitchenAid and enrolled on a cake decorating course.
I started to wonder if baking could be more than just a hobby.  Taking a break from work to start a family gave me time to think - even if that time was during 3 AM feeds! I realised I could transform my passion into a career that allowed me to work around my new family's schedule and, Essence of Cake was born!
Now, I get to spend my days doing something I absolutely adore, and I've never been busier!
So, go on, treat yourself. Because, as Grandma always said - 
"Everyone deserves Cake!"