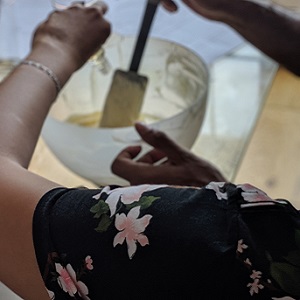 Baking Workshops (2-3 hours)
After many of our customers asking the question, we now offer bespoke baking classes to all. Whether you are a beginner or want to enhance your skills, we can design a class just for you. And if you want to bring along a/some friends and make an event of it, we can cater to that too (total maximum 4)!
We'll take you through the entire baking process, from mixing and lining tins, to piping and decorating your cake in pairs.
Classes start from £50 per person (price will vary for 1:1 workshop) and all equipment (shared between 2) and ingredients are provided.
​Contact us to find out how we can design the perfect baking class for you.
Alternatively, if you would like to attend one of our scheduled dates, the next dates available are:​​
TBC